| | |
| --- | --- |
| Today is | |
Home Remodeling Columbus
Extreme Remodeling - Central Ohio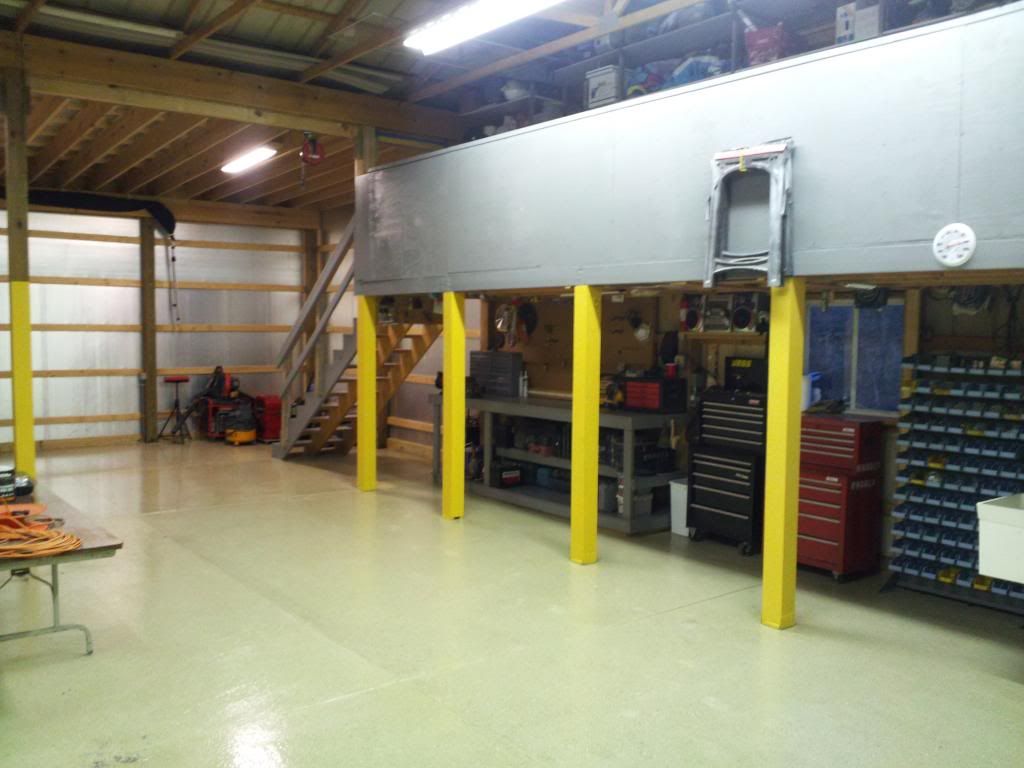 Many remodeling jobs are born out of lifestyle or life changes. A growing family may mean an unfinished basement needs to become living space, or a family's eating and entertaining will make a kitchen remodel a new priority. Sometimes remodel jobs are defined by hobbies or activities pursued by a family.
Boat Storage Remodel 
For this recent remodeling project near Marysville Ohio, the goal was to convert an existing out building into a boat shelter for a large water craft. The picture shows the interior of a small barn that was expanded to house a large speed boat. Plenty of room remained for organizing tools and adding a loft office. More space, more functionality.
Central Ohio's proximity to large resevoirs, the Great Lakes and vacation destinations like Lake Cumberland means there are a lot more boaters than you might think. The large lots of many midwestern homes make them ideal for outbuildings like cottage offices, barns or detached garages.
The next time you're looking for your next remodeling job, don't forget the opportunities to upgrade that are just outside your home. 
Attic Renovation - Hilliard OH 
Sometimes, when you want extra space, you just need to look up.
Many homeowners, especially in Central Ohio, look to remodel their kitchen and basements when they want fresh, new living space. For some homes, the most inspiring and unique space to consider is the attic.
The picture below is from an old Hilliard Ohio home that contracted with Ralph Rhodes Custom Homes to convert former storage space into a studio loft used as art space and home office.  
Defining the Attic Renovation
The home owner wanted as much floor space as possible in this attic loft, needing room for a desk and computer equipment. Also with the anticipation of painting large art work, there had to be enough headroom for both the artist and canvas.  
Provide a contemporary room that still felt a natural part of the 100 year-old home.
Attic Remodeling Considerations
In consulting with the homeowner, several structural issues were discussed including:
How to maintain structural integrity of the roof
Provide adequate air circulation around insulation 
Getting heating and cooling to a space with no ductwork
Attic Renovation Solutions
The knee walls were pushed out but not as far as the homeowner wished. The solution for ensuring proper support for the roof and getting as much floorspace as possible was to add built-in bookcases to the knee walls. Some of the built-ins were wired with electrical outlets so peripheral office equipment could be stored and used.
Raising the cross beams gave ample headroom for the painter, easel and canvas.
Thin bricks were used on a corner to create the illusion of an old chimney stack. This also added to the loft feel of the space and helped capture the contemporary, yet historic, feel the owner wanted. 
The heating and cooling was achieved through a ductless system from Mitsubishi Electric. A small three inch hole provided all connections to a heat pump mounted at the ground level. The attic was on its own thermostat and only needed to be run when in use. No retrofitting the older heating and cooling system and no wasted energy since it was on demand and specific to this space. 
Renovation Highlights:
Ductless heating and cooling system
Window seat and new energy-efficient windows
Built-in bookcases and storage 
Spectacular views
The added upside to a finished attic over a finished basement is the potential for exceptional views. From this renovated attic, you could gaze across the slate roofs and old chimneys that make up the historic district in Hilliard Ohio. 
So, the next time you're looking for new living space in your home, don't forget to look up as you explore your options. 
Find Columbus Remodelers - Central Ohio Home & Garden Show 
The Columbus Dispatch Events' Central Ohio Home & Garden Show is fast approaching. 
It is not to be missed if you're in the market for remodeling your kitchen, bath or basement.
Or, if you're planning to build your dream outdoor living space. It's a great place to collect ideas and explore vendors.
Here's what you need to know if you're going to the show and preparing for your own remodeling job.
Many of the top remodelers in Columbus are present. 
This is a great chance to see and meet with many of the larger builders around Central Ohio. You can meet some of the team and review their portfolios. 
Many of the Best Remodelers Won't Be There
Who you are less likely to find are your Central Ohio Craftsmen. Your smaller specialists and builders simply can't afford the 10 days and $2,000 away from work - even if it does help fill the job calendar.
That's not to say you won't find your ideal builder at the show. You may. Consider using the show to fine tune your remodeling plans with ideas and product selection. Get a partial list of builders to consider for your remodeling project. Then finish your remodeler list with recommendations from friends and family. 
Even the smallest remodeling job disrupts your household. If it's a major remodel, in a frequently used room like the kitchen or bath, it can be an extended project that you want going as smoothly as possible to minimize your stress. It's important to be comfortable with the remodeler you choose.
As you head to the Home & Garden show, here are a few things to help prepare for you project. 
1. Compare Columbus Remodelers
Talk to several vendors and see how you interact. You'll be working this your remodeler for an extended period of time, in a stressful situation - will you get along? 
2. Compare Home Remodeling Products
Having several providers in one location makes it easy to compare and decide what will work for you. I needed replacement windows and didnt realize the frame width could change dramatically. I needed more light in my house so wanted the windows with the most glass and least frame. I found it walking around the show instead of driving around town.
3. Take Notes
There's a lot of information and it'll all blur together the moment you walk out of the Home & Garden Show. Write your thoughts and comments on flyers, business cards - whatever will help you remember what you liked about a particular product or home remodeler.
4. Take Photos
Your cell phone probably has your best note taker with it. Take pictures of any ideas you like so you can easily share it with the remodeler you ultimately choose.
5. Take Your Time
You'll find many incentives to buy at the show. That few hundred dollars of savings is not worth years of aggravation if you buy the wrong product. 
| | | |
| --- | --- | --- |
| | Powered by intivion | © 2007 Ralph Rhodes Custom Homes Inc. |